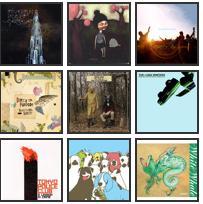 Let's get back on schedule with a spanking new playlist for August.   Lots of great stuff this month, sale and some new bands you might not have heard of yet.   I'm really excited about the new album from Silversun Pickups… definitely check 'em out.
You can download the iTunes playlist (songs marked with an "i"), or the Yahoo! Music  playlist (songs marked with a "y", good coverage this month w/ 11 out of 15 songs available).   I love to get suggestions and comments, so send 'em my way!  I hope you like it, since I really enjoyed putting this one together.
-Dave
Silversun Pickups Lazy Eye (y,i)
I heard some pre-release tracks from this LA indie band's new album Carnavas and have been waiting for the release.  Lead singer has a unique sound, and he's backed up by intricate guitar-work…  love this song.
The Format She Doesn't Get It (y,i)
Arizona band has put out an album about the lead singer's breakup on  Dog Problems, but they managed to do it with some of the most upbeat sunny tracks I've heard in a while.    This song puts me in a good mood.
The Long Winters Pushover (y,i)
Seattle singer-songwriter John Roderick leads this indie pop band that has a little bit of country & rock influences
Sammies Falling Out (y,i)
North Carolina band has put out a driving infectious rock track… the guitar hook starts almost immediately and will be stuck in your head for a while.
Dirty On Purpose Your Summer Dress (y,i)
Well crafted album Hallelujah Sirens by this Brooklyn group. Your Summer Dress is a low-key but lout track overlaid by two delicate vocals.
Tokyo Police Club Nature of the Experiment (y,i)
I at least had to give this Montreal band a listen with such a ridiculous name.   This song has layered melodies and vocals and is worth checking out.
Bears Hot To Live (i)
Cincinnati group has a unique sound.  This track highlights  multiple vocals over a rich backdrop of organ notes and tambourines.
Midlake Roscoe (y,i)
Quintet from a small town in Texas… their new album The Trials of Van Occupanther has a sort of 70's folk rock influence, and I think it works well in this track.
White Whale What's an Ocean For? (i)
A small band from Lawrence, Kansas, with big ambitions to create an expansive, far-reaching sound.   Not sure if they'll get there, but it's a promising debut
The Sleepy Jackson You Needed More (y,i)
Australian band continues to develop their sound.  They weave together a tapestry of sounds together into this rich, shimmering track.
Hot Chip The Warning (y,i)
Another track from this London electronic band…. This one has some pretty silly lyrics: "This is a warning…. Hot Chip will break yoru legs, snap off your head".
Every Move a Picture Mission Bell (y,i)
Local San Francisco band continues to pump out 80's retro music.
The Pipettes Pull Shapes (i)
So why stop at the 80's and 70's?   This girl band sounds like it's been transplanted from the 60's, and in this case at least, that's not a bad thing.
Guillemots Trains to Brazil (y,i)
Eccentric indie rock group from the UK.. puts out a great indie pop song.  There's a surprising horn section to add to the eclectic nature of the track.
Earlimart Answers and Questions (y,i)
I'll close out the list with this understated, pretty single just released by this LA indie band.